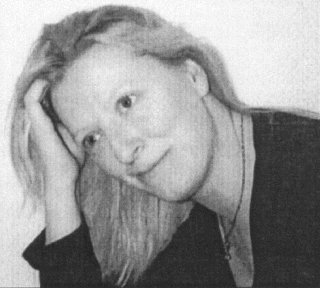 Rebecca Henderson began her career as a poet at the age of seven by winning the WBZ Bullfrog Jumping/Poetry Contest. For the next ten years her work remained hidden in dozens of notebooks. In 1990 she allied with Bill MacMillan's Worcester Poetry Asylum, where she was exposed to slam poetry. In 1999, Rebecca crossed state lines and won a spot on the Providence Slam Team, which competed at the 10th Annual National Poetry Slam Championships in Chicago. Although she had been attending the nationals since 1996, this was her first year competing. In the previous years she documented both the Worcester and Providence teams with her camera.
The 1999 Providence Slam Team has performed at the Cantab, AS220, the Blithwold Mansion Benefit and the Hear in Rhode Island Festival. On her own, Rebecca has performed at Lollapalooza, Sober in the Sun Festival, Voices in the Dark, Worcester State College, Rhode Island College, First Night Worcester, WICN radio, and other venues throughout New England.
She was a member of the 2000 Worcester Slam Team that competed in the National Poetry Slam in Providence, RI.
Her publishing credits include Omnivore, Arizona Anthology, Crone's Nest, Anthology of Spoken Word Poets, and Check the Oil Magazine. She has published four chapbooks, the latest titled Love Life Ailing.
Rebecca is a professional student who is nearing retirement. She currently resides in Upton, MA with her two cats.
Visit Rebecca Henderson's home page for information, sample poems and more.
Two samples of her work may be found at www.gotpoetry.com.
An audio sample of her work is on the Downcity Slammer's page on MP3.com.
---